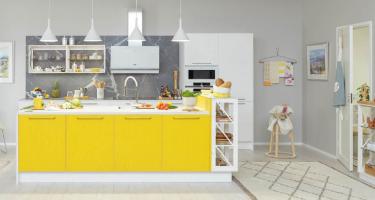 Backbone of an ecological kitchen
Puustelli Miinus furniture cabinets are made from the cleanest available materials. Puustelli furniture cabinets are custom designed for each purpose, while maximizing the use of furniture space. Design of Puustelli furniture also takes into account the installation phases and, for example, sink cabinet plumbing has been taken into account as accurately as possible beforehand. Puustelli production is non-toxic and the furniture does not cause indoor air problems.
The choice of Miinus kitchen cabinets inspires you to decorate the entire home. For your home, there's a choice of superb veneer cabinets with sophisticated color stains, impressive Fosb cabinets with superb paint colors or silvery, pearlescent shades. Innovative bioframes, the appearance of which your own choices can affects, are naturally the icing on the cake. In the form of open shelving or shelf units they are design elements as they are.