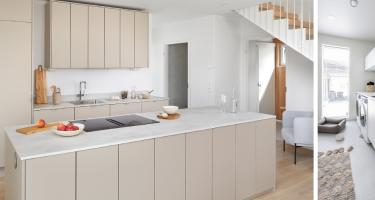 Puustelli furniture frames are custom designed for each purpose, while maximizing the use of furniture space. We make the frames non-toxically using the cleanest materials available and band them throughout. Our furniture will not cause indoor air problems in your home.
TailorMade measurement of our furniture opens the door to ergonomics and makes design even more interesting. Since the possibilities are almost endless, even the smallest space can be made functional and pleasant. Frames form the backbone of furniture and enable ergonomics and working convenience. Measurements and the materials used really do make a difference.
Design of Puustelli furniture also takes into account the installation phase. Furniture is customized for each home appliance requiring integration. Puustelli biocomposite grilles ensure adequate air circulation for home appliances. Also, sink cabinet plumbing has been taken into account as accurately as possible beforehand. This means the furniture needs no machining, which would also slow installation work. The end result is neat, too.
Puustelli frame materials, including the colors, provide inspiration to decorate your entire home. Other alternatives have appeared alongside familiar melamine frames. For your home, there's a choice of superb veneer frames with sophisticated color stains, impressive Fosb open frames with superb paint colors or silvery, pearlescent shades. Innovative bioframes, for use as such or modified with glass frames and veneer sides, are naturally the icing on the cake. Discover our materials.