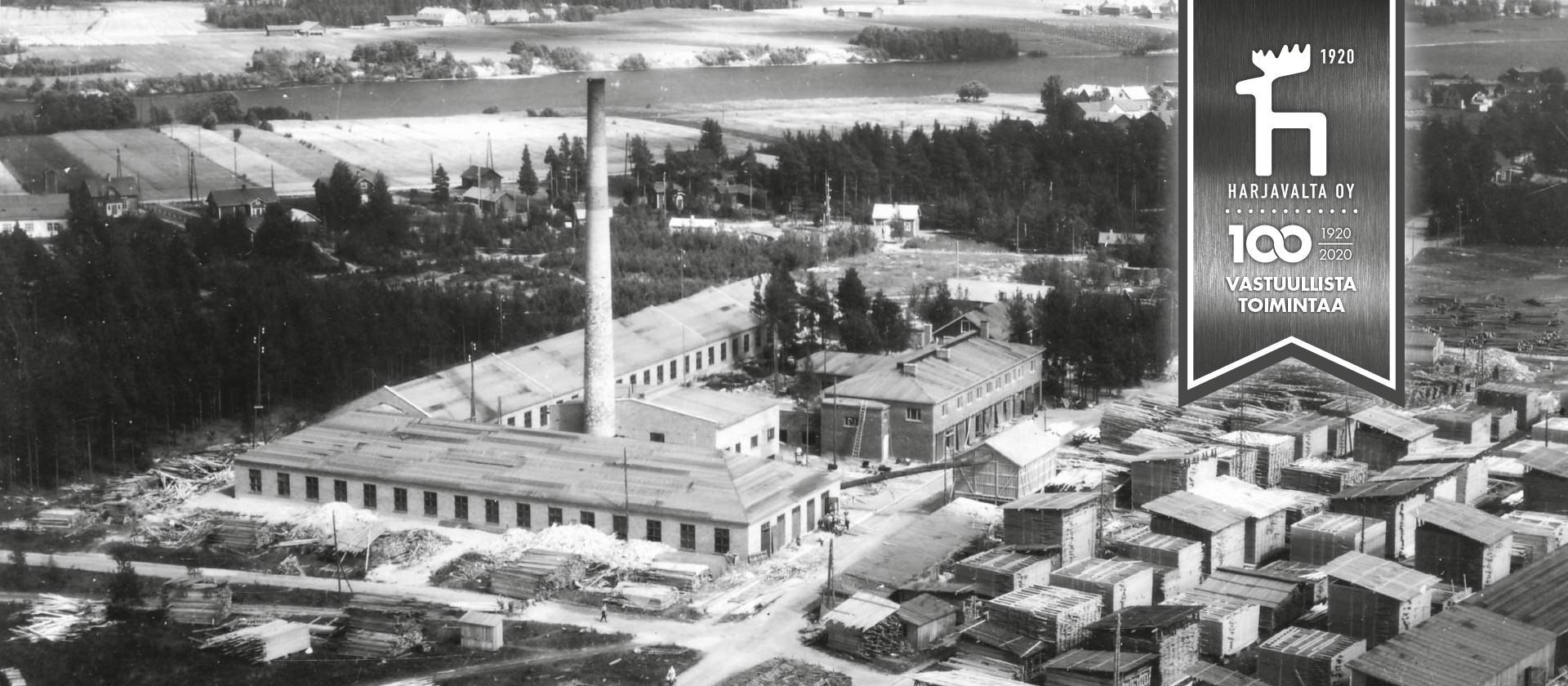 Puustelli's story
---
Puustelli's story begins in the village of Merstola in the parish of Harjavalta back in 1920.
1920 Puustelli's story begins
Finland is still very much an agrarian country and the company of Harjavalta Osakeyhtiö had been recently founded to make threshing machines and various wooden products. Building its own sawmill and focusing on the production of sawn lumber and timber goods became the company's real cornerstone. In those days, strange things were abroad in the world. An Austrian architect, Margarete Schütte-Lihotzky, designs the Frankfurt kitchen in 1926. This is the first kitchen meeting the requirements of the day where everything needed is within easy reach. Particular attention was given to kitchen design. Perhaps this triggered the interest of the construction industry in kitchens, since the kitchen is largely factory-made.
1930 Time of upheaval
The early years of the decade see strong industrial decline. There is price dumping in the wood industry and international trade begins to wane at the same time. However, the recession doesn't last long and Finland's internationalizing competitiveness is momentarily helped by a devaluation of the Finnish markka. Forests are felled, the soil is cultivated and horses hauled. No-one expects war and the end of the decade mixes up many lives. In many ways, the time is one of survival for Finland. Family tragedies are shared and affected everyone. With its plays and hit songs, the radio becomes an important medium to help people cope with everyday life.
1940 End of the wars
The end of the wars mark the starting point in the industrialization of Finland. People at Harjavalta also rolled up their sleeves and set to work building a new factory. The lines manufacture doors and windows, some of which go to the Soviet Union as war reparations. Quality and delivery accuracy make an impact and more orders are received. Word begins to spread, many come to ask for a job when they see the factory smokestack and many stay there and then. Locals just speak of the joint stock company, since Harjavalta is such a well-known company and employer. In the mid-1940s, Maiju Gebhard, a home economics teacher, develops an innovative drying cupboard for the Finnish kitchen.
1950 International pulses
The time of shortages is considered as having ended and coffee is no longer rationed. Finland is still very much an agrarian country, but urbanization and industrialization are gaining strength. International eyes are on Finland with the 1952 Olympic Games in Helsinki and Finland receives even more attention when Armi Kuusela is crowned Miss Universe. In these days, music, fashion and ideals begin to flow into the country. The joint stock company gears up seriously for industrial production. As Harjavalta quality was tightened, demand for doors and windows grows. The range of products usually depends on the demand. Everything is done by hand, skilful hands.
1960 Harjavalta quality
In the 1960s, Harjavalta's factory begins increasingly to focus on joinery and high quality. Harjavalta quality is increasingly in demand for doors, windows and furniture for demanding public buildings including the University of Helsinki Hospital, Finlandia Hall, Helsinki City Theatre and many other projects.
Export channels open and a start is made on making wooden interior doors under the Carl Larsson name for Sweden. Everything is sold. The quality criteria of the doors are unprecedentedly high and our joiners on the production side hone their skills to perfection. Quality creates demand, whether for garage doors or park benches.
1970 The Puustelli brand is born
It's the time of recession, but the company has an ace up its sleeve. It's said that a diamond is created under great pressure, just like now. Carl Larsson doors begin to be made under the Puustelli name. There is plenty of steam, as there should be in a small village. Puustelli kitchens see the light of day in 1977. Speciality Puustelli stores are opened around Finland. And so individuality, fine joinery skills and design move a step closer to the consumer. Interior doors combined with kitchen furniture in the same style provide something different. The Puustelli range of products continues to expand, with coordinating windows, outside doors and floors, including molding. Finland's most popular brand is born, thanks to the skills of the joiners at Harjavalta.
1980 Imitators discovered,
there is nothing comparable
The factory's joinery skills are applied to different wood species. People want to decorate the entire home with the same style of Puustelli furniture and interior doors. Stained wooden doors are a novelty that only self-sufficient Puustelli can respond to. Painted MDF doors and the different patterns of melamine surfaces become part of the color splendor. A smart planning program with furniture included directly in production is customized for the store network. Puustelli's free design and measuring service, Presis. Is extended to homes. Puustelli bathroom furniture with pine slat doors are added to the range. The company develops an industrial process for manufacturing white panel interior doors from wood fiber pulp. The process won the "Tuottava Idea" (Productive Idea) award in 1986.
1990 Exports start
Puustelli's operations expand across national borders. A start is made on exporting kitchens to Sweden, the Baltics and Russia. The factory in Harjavalta is enlarged and new machinery acquired. The door factory begins to use water-based finishing agents. The store network grows further and new content is added to Puustelli service. Appliances, sinks, faucets and lighting are included in the same kitchen delivery, this is a novelty in the industry. Besides installation, the turnkey service includes dismantling old fittings as well as electrical and plumbing work. Puustelli financing, for which there is undoubtedly a need, is available for the entire renovation. The foundation for Puustelli's installation and renovation service is created. In 1996, Tuottavuuskeskus ry awarded the company its productivity cooperation prize in recognition of productivity improvement.
2000 Quality and client satisfaction
Quality and client satisfaction are the guiding forces for Puustelli's business. This is given objective confirmation when Puustelli starts to use an ISO 9001 quality management system. The scope of certification is unique in the furniture industry and covers Puustelli product development, sourcing, production, transport, installation and store operations. The turnkey service concept is further improved and is given the name ALLinclusive. Production facilities are modernized and furniture frames and panels are now edge banded. Together with various researchers and expert organizations, Puustelli embarks on a project consuming time and euros to manufacture an ecological kitchen. Regular client satisfaction surveys are introduced and more than 95% of clients would recommend Puustelli.
2010 Being a leader requires commitment
An ecological approach spreads throughout the company and even guides the factory's operations. Greater attention is paid in the choice of materials and production processes to ensure minimum impact on nature and the environment. The introduction in the 1990s of water-based surface treatment of wooden doors and components was already a step towards a cleaner future. We continue along the same path and do everything in our power for the benefit of our shared environment. No substances containing heavy metals are used in production and nor do they originate in the production process either. Besides water-based surface treatments, the assembly line switched over to using glues that contain no added formaldehyde. Our determination was rewarded in 2013 when we started production of the ecological Miinus kitchen, the only tried and tested kitchen of its kind globally. The innovative Miinus furniture frame is made largely of biocomposite. The kitchen's carbon footprint is 50% lower than a kitchen made of conventional materials. At the same time, Miinus kitchens have the best indoor air rating M1. Puustelli is still the best-selling kitchen brand in Finland. As a responsible manufacturer, we continue to address increasingly more efficient and ecological production processes. Puustelli Miinus kitchen furniture received a PCT patent in 2018.
2020 Milestone
For Puustelli, 2020 is a milestone year as the parent company Harjavalta Oy celebrates its centenary. This is a rare event in company history in Finland. Getting where we are today has entailed successes and failures alike. The company is marking its centenary in many ways so that clients can join in the celebrations through Puustelli stores. Now, a biocomposite structure is migrating to bathrooms, where the likes of which have never been seen before. The frame structure is a patented Puustelli biocomposite body with an incredible water resistance of 100% and a modest 0% formaldehyde rating.
Recent articles and events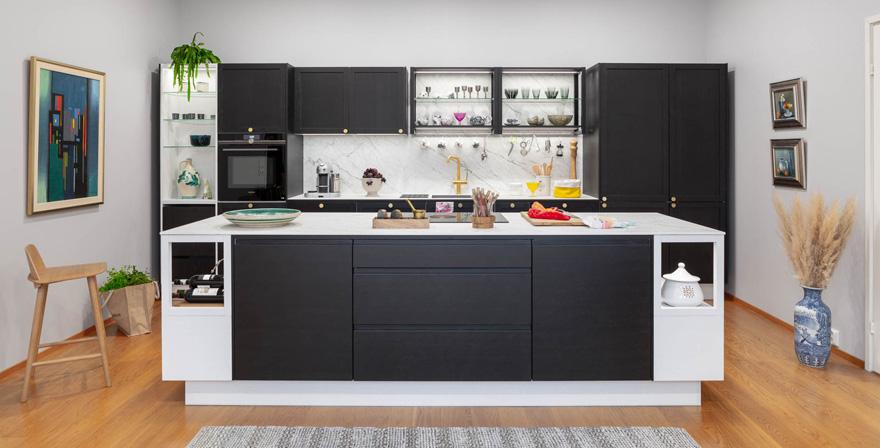 Find your own kitchen style.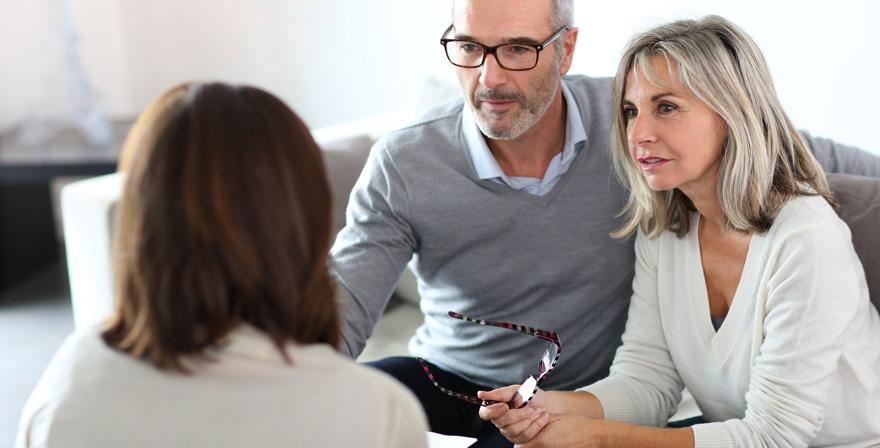 The easiest kitchen remodeling of your life